Do you remember ?

C'est ma toute nouvelle collection en ce début de mois de novembre
j'avais envie de couleurs, de gaieté et de vintage !
Ce kit est parfait pour donner la bonne humeur et ajouter une touche de bonheur à toutes vos compositions !!
et elle est à 50% pendant 3 jours !!
This is my new collection in early november
I wanted colors, gaiety and vintage !
This kit is perfect to give the mood and add a touch of happiness to all your compositions !
and it is 50% off during 3 days !!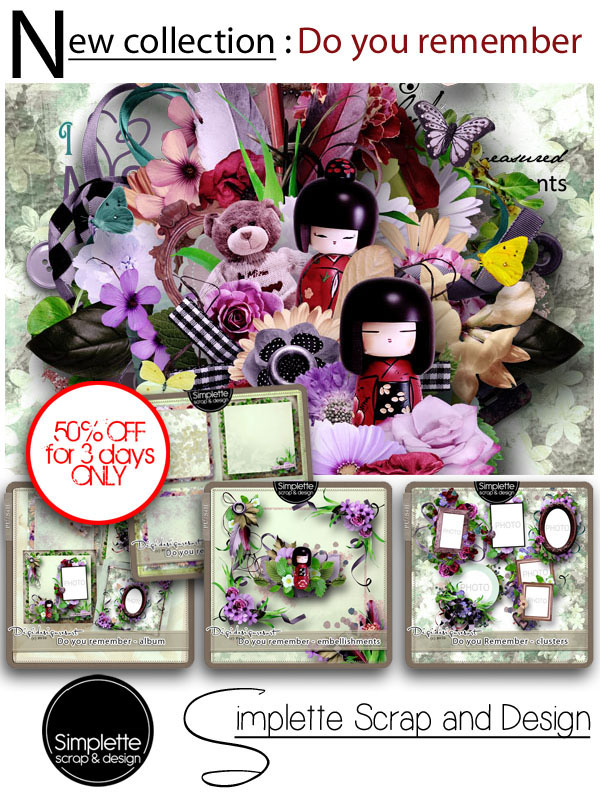 La voici en détail :D
vous trouverez tout ça en boutique :D
Here it is in details
You'll find all these products in my shops
Scrap With Friends
http://scrapwithfriends.com/index.php?main_page=index&manufacturers_id=3&zenid=qnq7vdu8n7e0cg5o0ophb9oam5
Digi Design Resort
http://www.digidesignresort.com/affiliates/jrox.php?uid=simplette&jxURL=http://www.digidesignresort.com/shop/simplette-scrap-and-design-m-149?zenid=ceed95b3eb538893cd5c07eb3283c50a
Scrap From France
http://scrapfromfrance.fr/shop/index.php?main_page=index&manufacturers_id=59
ma page
template d'ilonka scrapbook designs